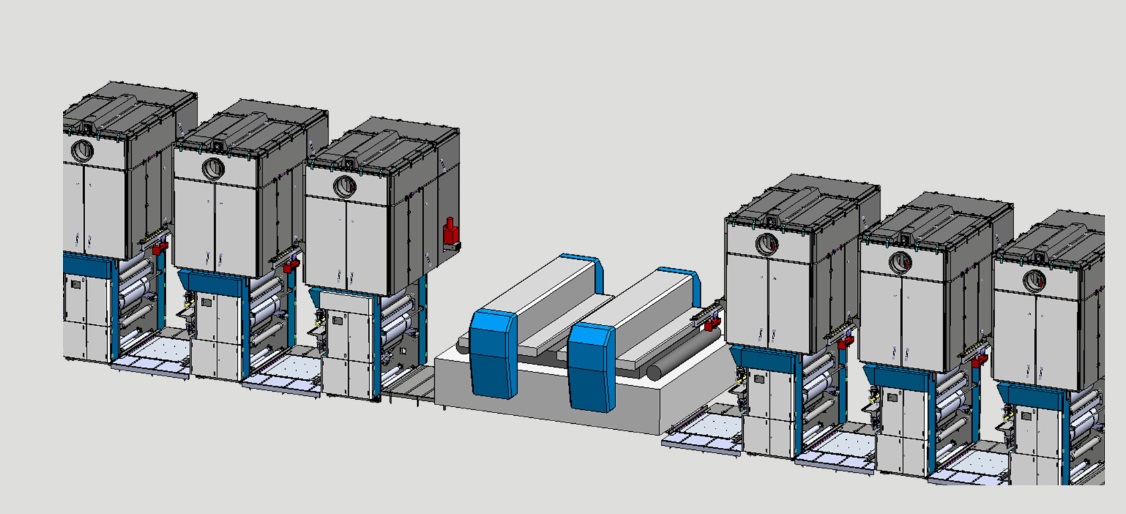 DGE8080 series rotary screen and gravure integrated ink jet printing foaming wallpaper production line
The machine is based on DGE6080 series of rotary screen and gravure integrated foaming wallpaper production line and combine the digital ink-jet printing technology. It is the newest multi-functional high-end wallpaper production line. The machine can be combined with rotary screen printing, gravure printing, flexography printing, digital ink-jet printing, high temperature foaming, embossing, etc. the full use of servo drive technology, mechanical structure, and advanced processing technology makes the product performance become advanced in the product of its kind. The machine fully meets the needs of the production of color printing, foaming, embossed wallpaper.
DGE8080 series of advantage
1、In the round rotary screen and gravure integrated unit, the combination of digital ink-jet printing technology can satisfy the complex process and species diversity in the wallpaper production.
2、Using high speed fixed array of industrial nozzles, ink jet printing can speed up to 72 m/min.
3、The gravure unit adopts the crosswise pressure structure, helping the ink supply of the circulating ink pump. The gravure unit uses lateral pressure structure and can be changed based on technological requirements.
4、Each printing unit adopted individual servo control and has three servo control points. Tension parameter shows that the control precision is ±5N, so it is stable and reliable with small fluctuations.
5、Efficient vertical oven has effective drying path of 5 meters and can choose either the oil of thermal load or natural gas heating resource.
6、Efficient performance of horizontal oven, control temperature difference within 1 degree, foaming effect is good, the oil and gas heat source of thermal load is optional.
7、Deep embossing device is servo drive structure with automatically register system and automatic alignment function, with stable register, clear embossing, and high rate of finished products.
8、The machine adopts the new servo drive control system, which is stable and reliable. The automatic alignment function improves the production efficiency and rate of finished goods. The remote diagnosis can be achieved to detect and solve the problems in the shortest time.